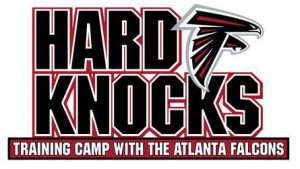 I love HBO's Hard Knocks, but I'm going to really love it this season. My beloved Atlanta Falcons will be the feature this year. Hopefully we will erase the hell we as fans went through last year and have a great 2014. Here is the article from Atlanta's own D. Orlando Ledbetter
FLOWERY BRANCH — The Falcons will be featured on HBO Sports' award-winning documentary series Hard Knocks, the team announced Thursday.
 
The Falcons, HBO Sports, and NFL Films will team up for an all-access, behind the scenes look at what it takes to make it in the National Football League when Hard Knocks: Training Camp with the Atlanta Falcons debuts on August 5.
The Falcons have been approached before, but have been reluctant to appear on the hit show.
Pages: 1 2